Wesley Berry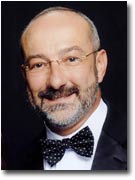 A lifetime in the business provides the basis upon which Wesley Berry draws when developing strategies for his florist business. When asked his business philosophy Wes always responds, "Prepare for the worst, but expect the best." Thirty years ago, he wrote those words on a piece of paper that he still keeps in his wallet. Although over the years he has re-written it many times, it still serves as a constant reminder for him to balance risks with opportunities. For without risks there are no real opportunities.
Wes met his wife while teaching a floral design class in 1985. "She was the most talented student I had ever seen and the most adorable too. One evening before class, I asked her, if class ends early, maybe we would have time for a cup of coffee. We've been together every since."
As a second-generation florist, he has seen many changes in the floral industry over the years. From the old fashion Western Union Tele-type to the Internet, Wes has seen it all. He graduated from the Oakland Technical Center in 1975 completing its Floriculture & Agriscience Program with a grade point average of 4.0. In 1981, he completed the prestigious FTD Master Florist Manager Certification Program.
As the CEO of Wesley Berry Flowers, he has demonstrated a strategic style of management by building a successful multi-million dollar brick and mortar business. With a reputation for quality and service Wesley Berry Flowers has been repeatedly "Voted Michigan's Best Florist" by The Detroit News and "Best Florist" by HOUR Magazine and by STYLE Magazine. Also, recognized nationally as "Top FTD Florist" for the past ten years. He was honored in 2003 with the "Ring of Hope Community Service Award" presented by the Pheasant Ring Community a nonprofit that provides housing and other services to autistic adults. The Society of American Florists inducted him in 2005 into the American Academy of Floriculture. In 2008, three major awards were received; the NAACP Oakland County Chapter presented its "Corporate Leadership Award" also the Wholesale Florist & Supplier Association awarded its "Retail Florist of the Year" for Outstanding Community Involvement and "Business Person of the Year" was awarded by the West Bloomfield Chamber of Commerce. In 2012 he was named "Business Person of the Year" by The Michigan District of Optimists International. United We Walk an organization dedicated to the celebration of the Dr. Martin Luther King Holiday recognized him with their "Community Leader Award" for 2014.
Since 1994 under the brands Wesley Berry Flowers and Flower Delivery Express he has maintained a major internet presence. In 2011 that internet component elevated his business to the 130th position in retail on "Inc Magazine's 500/5000" list of fastest growing businesses. The internet has proved to be an area well suited for his marketing skills.
Wes has consulted in the establishment of over 40 retail shops. In the 1980's he established a franchise system of 30 retail flower shops operating in five States. Selling off most of those franchises in the 1990's he still maintains a few franchise relationships. Additionally, he is the owner of the Professional Florist Institute, a State Licensed Private Vocational School. He is a licensed realestate agent and has participated in over 30 commercial realestate transactions.
In the past Wes has commentated or designed for several FTD Design Shows. In the 1980's he designed sets for both ABC and CBS television shows. Wes has appeared as a guest on several talk shows and has been interviewed countless times by broadcast and print media.
Wes is a member of the Rotary Club, Optimist Club, Freemasons, Wabeek Country Club, Detroit Athletic Club, Detroit Gun Club, DeMolay Legion of Honor and Kirk in the Hills, Presbyterian Church where he served on its Board of Trustees. He has also served on the Board of Directors of an Education Foundation, Community Youth Assistance and on Henry Ford Hospital's Community Board. Wes resides in West Bloomfield, Michigan, with his wife and their four teenage sons. An avid Corvette enthusiast, he also enjoys sailing, fishing, golf, skeet shooting and most of all, spending time with his family.