With one million customers worldwide, sometimes we need a third party to help make things right. That is why we participate in the BBB.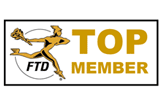 Since 1963, we have been honored members of FTD. For over five years FTD has ranked us being in the top 100 florists in America.

The Wholesale Florist & Floral Supply Association recently recognized Wesley Berry Flowers as "Retail Florist of the Year" for our Community Relations outreach.

The National Association for the Advancement of Colored People Oakland Chapter presented Wesley Berry with their "Business Person of the Year Award" at its annual dinner.

Wesley Berry Flowers has several Certified Florists on staff. These individuals have taken an examination conducted by the State Floral Association which determine them as well qualified and proficient florists.

As a business that is concerned about the sustainability of our resources, we have become Green Certified. We are also a member of the Michigan Adopt a Highway Program.

We are grateful to have been recognized by the readers of Hour Magazine as being the Best Florist. We know how important it is for us to win the trust of our customers, everyday.

For several years we have been voted "Best Florist" by the Oakland Press. It is important that we continue to earn the trust of our customers.

Being voted "Best Florist" is an honor that we are very proud of. In fact we have been honored as such over a dozen times. Everyday, we do our very best to keep the trust we've earned from our customers.